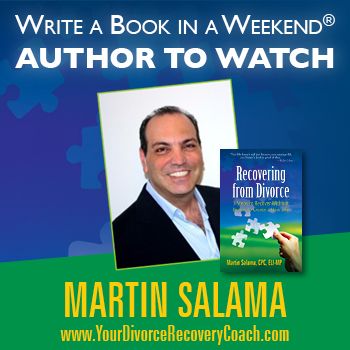 AUDIO INTERVIEW: Click here to Listen to more from Martin and Donna by clicking here
Congratulations to Martin Salama, our inaugural "Author to Watch."
Note from Donna Kozik: Martin Salama is a graduate of "Write a Book in a Weekend" and components of his book, including cover design, were produced by "Done for You Publishing." He is also a member of my "Author Mastermind & Network" and a team captain in the "Power of 5 Action Challenge." (Whew — busy guy!) 
Here's the written interview I did with the author Martin Salama of www.YourDivorceRecoveryCoach.com
Title of Book: Recovering from Divorce: 7 Steps to Recover Without Drama to Create a New Life  (Available on Amazon.com in both hard copy and as an eBook)
Book Summary: This book is for anyone who is going through or has gone through a divorce. It doesn't matter if you asked for the divorce or were asked, you no doubt have some emotional baggage that inevitably goes along with the divorce process.  The question, then, is "How are you recovering?" This book shows you how to understand where you are in your own divorce recovery and what you can do to begin the necessary healing process.
Donna: What got you motivated to get your book done?
Martin: Once I developed my 7 Step system to RECOVER, I knew I had to share it with other people facing the same emotions I faced. A book seemed like a great way.
Donna: Why this book – why this subject?
Martin: I've wanted to write this book ever since I realized how my own emotional pains were affecting my life and how I used coaching to help get me through that difficult time in my life.  Recovering from my divorce wasn't easy. I learned a lot about myself and the areas I needed to improve, like my temper, my self-esteem, and my ability to rationalize and blame everyone else for my problems. Looking back now, I wouldn't change a thing. The healing process for me was accomplished by understanding who I was before and who I am now. Each person's process is different, and a lot of how you recover is up to you; it's your choice.
Having gone through a divorce, I understood that my experience along with my coaching expertise made for a natural progression to become "Your Divorce Recovery Coach."  Being that the subject was so important to me, I felt I needed to share my experience along with some of my clients', and a book felt like the right thing to do.
Writing the book was a very cathartic experience, I made some revelations about myself that were issues in my marriage for example in my book I wrote –
 "What you really want is to find that relationship where you want to make your partner happy and your partner wants to make you happy. There is a subtle difference as to what I have finally realized about my relationship with my wife, and it's true for all of those other unbalanced relationships out there: I always thought was that I was trying to make her happy, but really I was trying not to make her unhappy.
"The difference is subtle but the results are enormous. You'll find yourself like a hamster on a wheel, always trying to make your partner happy. But in reality, if you allow yourself to think about it, you'll realize that your actions are based upon hoping that your partner won't be upset with you."
Learning that about myself was such an AHA moment, that I know going forward in my life that will never happen again.
Donna: Is your book being used to support your business?
Martin: I consider the book as my big business card, someone who reads this book should understand that this book doesn't answer all the questions.  On the contrary it's the beginning of a dialogue they can have with me to fully recover. My ideal reader is a middle aged man with children who was married for a long time and doesn't know how to handle his "new single life."
Donna: What was the biggest breakthrough you had that took you from want-to-be author to holding your book in your hands?
Martin: Understanding that telling stories about me and my clients can help deliver my message.
Donna: What do you see for yourself in the future? What's your next big goal?  
Martin: To be a guest on a TV talk show like "The Steve Harvey Show." 
Congratulations to Martin, our Author to Watch! Check out more information about him at www.YourDivorceRecoveryCoach.com
Note: Write a Book in a Weekend(R) and Done for You(R) Publishing are registered trademarks of Donna Kozik Marketing, Inc.To find out more about these programs, email support (at) mybigbusinesscard (dot) com.